Coding Challenge #5 - Space invaders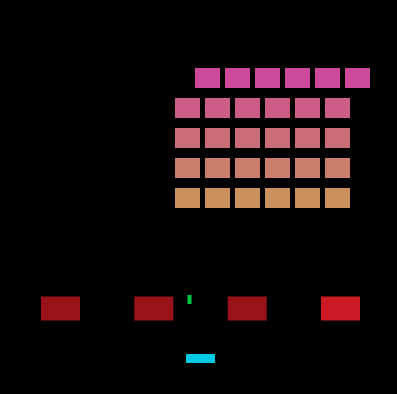 This is a p5.js sketch inspired by the Coding Train's Coding Challenge #5 of creating a playable game of Space Invaders .
Controls
LEFT / RIGHT to move the laser base (blue rectangle at bottom) left or right.
UP - to fire a laser beam at the income invaders.
References:
Source code: (View on Github)
Notes / Learnings:
Animation of the invading ships
This is something I struggled to get right. I wanted to mimic the heartbeat style marching of the invaders across the screen as seen in the YouTube video.
So I turned to the frameCount variable. I was using this variable to determine which row was moving, and using division and modulus together to determine the row.
But frameCount variable of the current frame starts at 1. Which I would have seen if I closely read the reference docs for frameCount.
This was fixed in this commit.
Also, I don't like how I had to pre-calculate the minAllowedX / maxAllowedX values to detect when to turn around. I think there is a better way to go about this if I were to revisit it.
Next Steps
Some things I would do if I pick this back up:
Implement the concept of being hit by incoming missiles and limit the number of ships you have as a player.
Add sound (I haven't worked to much with sound in Processing/p5.js yet).
Implement scoring.
Fix the issue that the invaders shoot missiles from any row / column.
Add the Mystery Ship which hovers above the invaders.
Explore Touch Screen interactivity to allow for playing on a smart phone / tablet.
Implement levels, maybe exploring the p5js.SceneManager with increasing difficultly. There are some config parameters that control the difficulty, that would facilitate this: